BBA Global Business Systems Management (GBSM) aims to nurture smart business managers with knowledge on global business, Internet technology and finance.
GBSM has a very flexible curriculum to support students' learning. In particular, to enrich students' experience, build their characters, and expand their social networks, our students are required to complete two semester-long overseas exchange studies in recognized universities in Europe, America or Asia-Pacific regions. Our graduates are well equipped with communication, problem-solving, data analytics, and other business/technology skill. They are in high demand in new economic companies and the pillar financial and consulting industries of Hong Kong.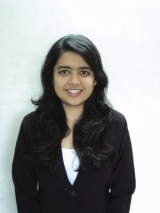 "I work as a Financial Analyst. I have applied the information systems knowledge I gained from my studies to various projects. The integrated knowledge and skills in information systems, financial analysis and global business enable me and my team to deliver our projects efficiently."

Ms. Gargi Sharma, JP Morgan Chase, Hong Kong
Hong Kong Finance - Investment Bank
Financial Analyst (Jun 2011 - 2015)